Doro Wat - Image from streeteatstv.com
So, not much blogging these days. But I'm coming out of semi-retirement because this post pretty much wrote itself. I've found myself needing a
doro wat
recipe to share with friends with some regularity lately, and everything I've been able to find elsewhere on the Internet just doesn't quite match up with what I learned in my cooking lessons in Ethiopia, sitting on a low stool in Waineselassie's kitchen in Addis Ababa last year.
Doro wat
is a celebration dish in Ethiopia - made for special occasions. It's rich and very spicy, and about as traditional as you can get. It was one of the first things I ate in Ethiopia - I am blessed enough that my arrival has been a special occasion more than once.
Of course, nothing here in the States quite compares to the experience of going to the
Merkato
to pick out your chickens, driving home with them squawking in the truck, and having them dispatched (humanely and quickly, for the record) in the courtyard.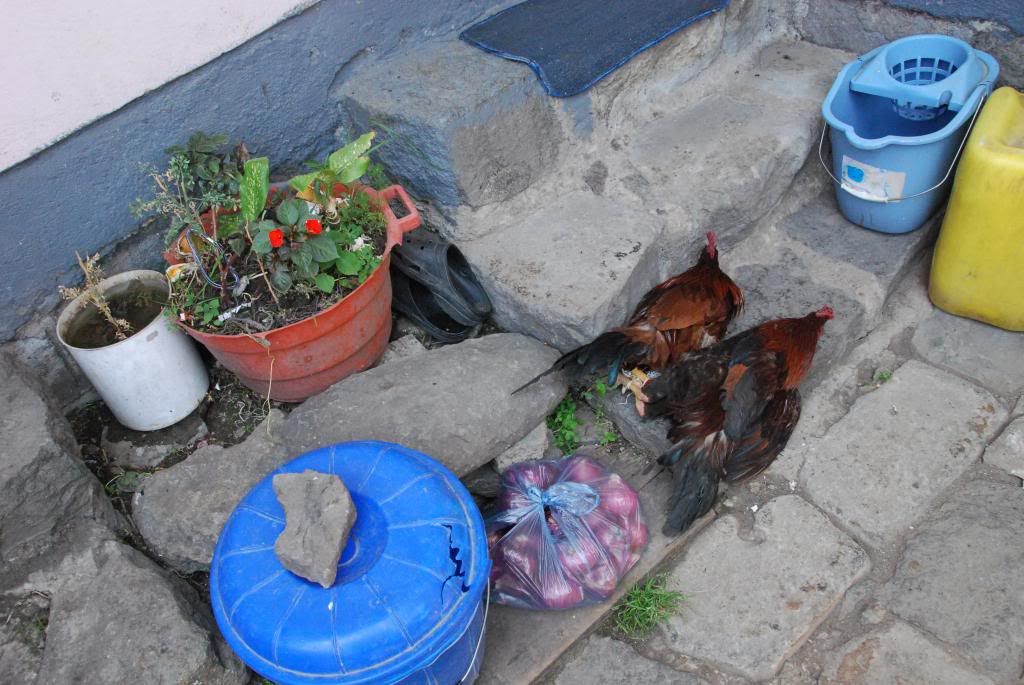 Doro wat ingredients....
So, copied and pasted from an email I sent a friend, here's how I learned to make doro wat, with a few modifications made for my American kitchen. This would traditionally be served with injera, but is very good served over rice.
Doro Wat - Spicy Ethiopian Chicken Stew
1 chicken, cut into pieces, skinned, and trimmed of fat
juice of 1 lemon or lime
4 large onions, chopped very fine or pureed in a food processor (in Ethiopia, they're ground)
6-8 cloves garlic, minced or crushed
1/4 cup - 1/2 cup berbere (use less to make it less spicy, and make up the difference in color and flavor with paprika, and some powdered or minced ginger, cumin, coriander, and cardamom)
1/2 cup spiced Ethiopian butter
(niter kibbeh)
- or regular butter/oil
1/2 cup red wine (optional)
6-8 hard boiled eggs
Start by putting chicken in a large bowl, cover it with cold water, and add lemon juice and a good handful of salt. Let it soak while you prepare the sauce.
For the sauce, add ground onions to a heavy pot (I use my dutch oven) WITHOUT OIL/BUTTER (this is traditional in Ethiopian cooking). Cook over medium heat, stirring very often, until onions are light brown and soft and a lot of the water has cooked out. This will take longer than you'd think - 30 to 40 minutes.
Add butter, garlic, and berbere, and cook until garlic is fragrant - a minute or so. Add wine, if you're using it, and about 2 cups of water. Bring to a simmer and reduce heat, cover the pot. In Ethiopia, this cooks a LONG time - an hour or so, before the chicken is added. The longer the berbere cooks, the milder it is. If your pot is oven-safe, you can simmer in a 325 F oven instead of on the stovetop - that's how I usually do it. In Ethiopia, Waine cooked over a small charcoal stove.
Add the chicken, cover and cook until very tender. Just before serving, add hard boiled eggs (the eggs are considered the most special part of the dish) and cook until eggs are heated through. Eggs can be cut in half - some people slit them from end to end all the way around, so the spices can penetrate the egg better.