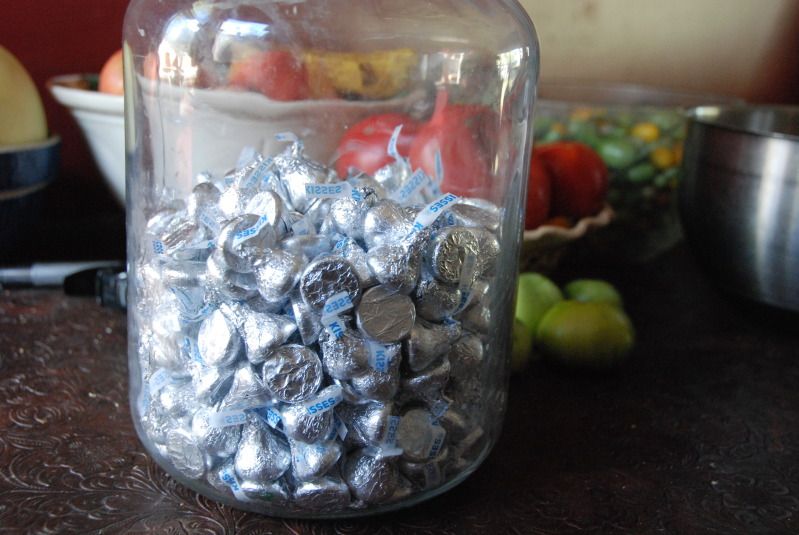 Well,
here we go again
, folks. We didn't get much notice for this deployment - our fourth in seven years - only about a month's head's up. It turns out it may be better that way - we skipped the pre-deployment crabbiness and went directly into make-the-most-of-everything mode. It's been a good month, really. And we're counting our blessings - instead of six or seven months, we should get R back early enough in 2013 that I can leave my Christmas decorations up until he comes home without irritating my neighbors too much. (That said, your United States Air Force is notorious for changing plans.... no chickens counted here until they're hatched.)
Instead of deploying with the main group, who left in July, he flew out there with a crew of about a dozen other aviators. We got the kids up early yesterday morning and drove out to the squadron, dropping him off with all his luggage and equipment. It was eerily mundane. We took a few pictures, and then I took the kids out for hot chocolate. Before they even finished their drinks, they were asking to go back to school. It was all over before 10:00, and nobody cried.
My kids are such troopers - I can't even say how proud I am of them. The burden of a military kid is a heavy one - after all,
they
didn't choose this life. But these three handle it with such grace, patience, courage, and wisdom. I have learned an awful lot from them. I have a truly amazing network of support here in the Great Frozen North, and those ties help me sleep well at night. We'll be alright.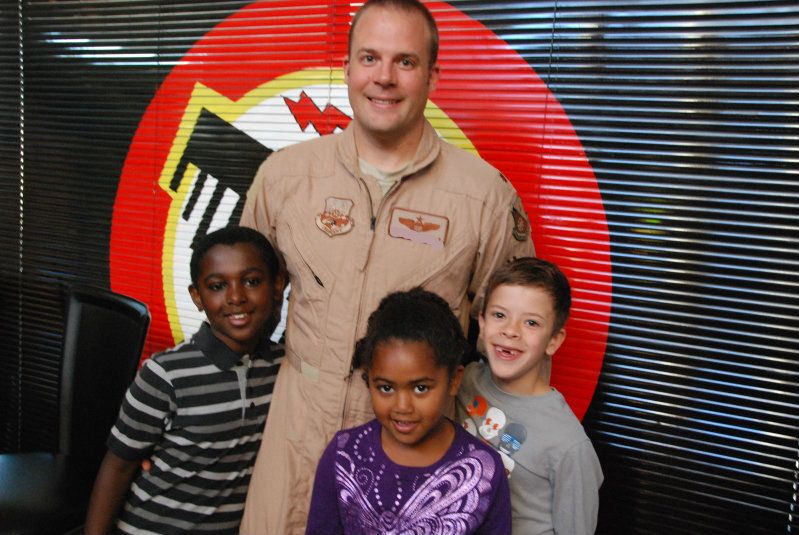 Wishing tailwinds for my husband until he comes home to us again. I'm pretty sure I've said it before, but y'all, it's worth it. Keeping the home fires burning is a honor and a privilege.
(Truth in advertising - this is not my husband. Picture taken this spring of a good friend. But you get the idea.)
...........................AND THEN THE AIR FORCE SAID, "LOL, JUST KIDDING."......................
And R came home eight hours after I wrote this original post last week. He had some technical difficulties over Canada (don't worry - it happens all the time, and is not as alarming as it sounds), and they turned around and came home. Surprise!
Funny - every non-military person who heard this story said, "Oh lucky you! You get a few more days!" And every military spouse said, "Oh NOOOOOO. I am
so sorry.
Here, have some wine." They all know that the only thing harder than saying good-bye ONCE is saying good-bye TWICE. Even my kids were torn. One of R's crew members told him, "Dude, when you get home, your wife is going to
shoot you in the face
."
I did not shoot him in the face. I did shed some slightly irrational tears, mostly revolving around the fact that our first departure went so darn well that there
was no possible way I could pull it off twice
. Once I got that out of my system, we really did have a lovely few days, with the exception of R getting the stomach virus that has been raging through all the elementary schools. I was glad he didn't have to do that on a jet, at least.
Turns out, I was quite right about not being able to pull off the smooth departure twice. The night before R left, Lina was up puking her guts out with aforementioned virus. (On a related note, it may be awhile before I can look at beets again). As we got the kids up before dawn, she was still throwing up. I found myself trying to figure out how I was going to take him to the airport (he flew commercial this time) with a vomiting child, and if I didn't how on Earth was he going to make his flight. I ended up giving her a dose of long-hoarded anti-nausea medication, and hoped for the best. It worked, and we saw him off in relative peace. I got an email this morning at 4:00 am that he had landed at his final destination.
After drop-off, things got even more fun, as I found myself coming down with the same symptoms. I spent the day yesterday sitting very still and drinking ginger tea. Lina watched movies and was a trooper of epic proportions. This morning, after a good long sleep for both of us, we seem to be fine. Crossing fingers now that the boys are spared. Danny has been a little queasy, but with his immune system of steel, it's possible that he actually HAS the virus, and this is how he shows it.
Funny thing - R left for this deployment five years to the day after his deployment to Iraq, under similar circumstances - changing fall leaves, puking kids. This is our fourth deployment. One wee political note - I was pretty darn disappointed last night that neither of our candidates discussed the ongoing war. At all. On the day I sent my husband off to fight it in it....again.
If you want to support the troops, y'all, go vote. And write your leaders. That is all.
So, here we go again. Again.